The B. Monroe Experience
At B. Monroe, we want to go the extra mile for our guests with kindness, professionalism, and fun. We want to build their confidence by showcasing their inner and outer beauty, and make them feel like part of our salon family – all while providing beautiful career opportunities and financial independence for our team.
From the moment you step through our doors, your experience will have a signature touch of elegance, flair, and true southern hospitality. Everything we do at B. Monroe Salon is designed to give the guest an experience that is both refreshing and exciting. We strive to create a fun and relaxing atmosphere – because you deserve it.
If we had to put our finger on why the B. Monroe Experience is unique, it'd have to be our amazing team. Our Stylists are a talented team of professionals who truly love every minute they spend with guests at B. Monroe Salon. We are a united team and we work together to create the beauty experience you've always wanted every time you come in.
Learn about our Salon Policies here.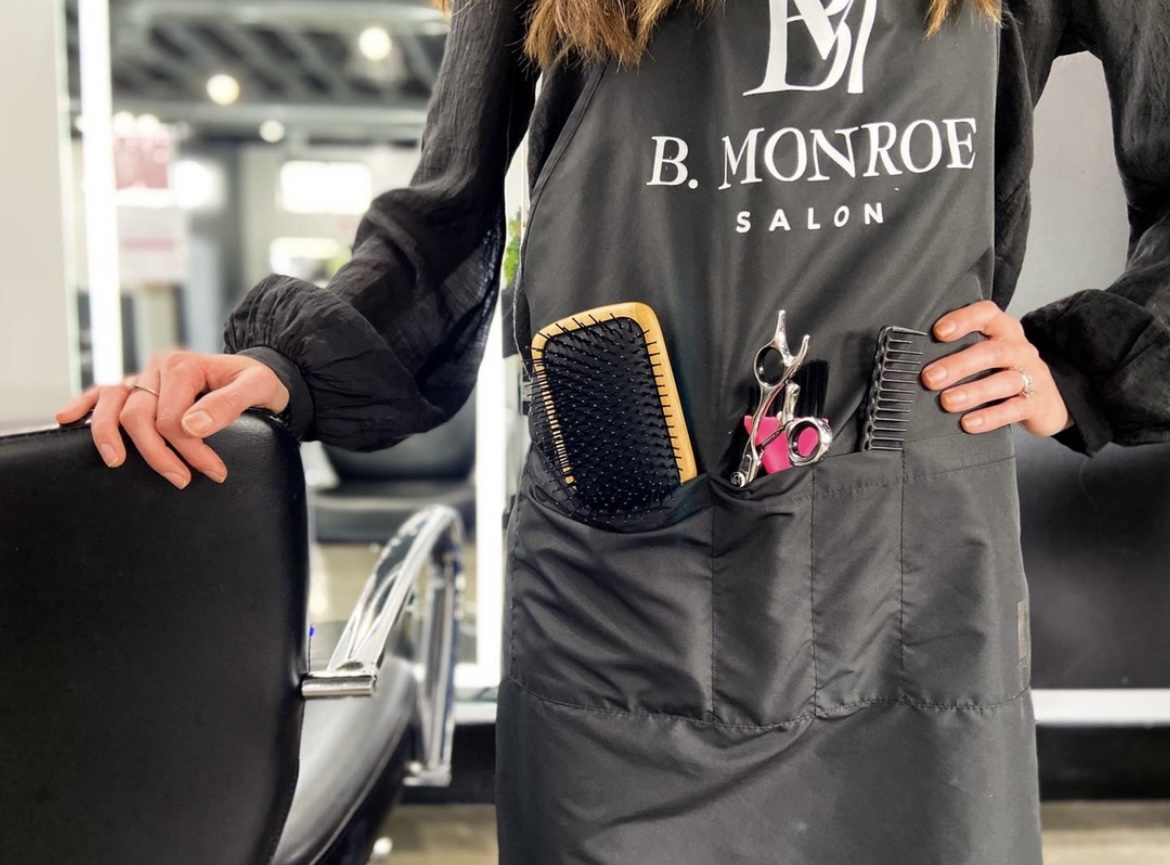 The B. Monroe Community
At B. Monroe Salon, we feel so blessed and embraced by our community and we want to always give back and support our city through a variety of amazing organizations. We have organized and participated in events supporting the New City Church, Crisis Line and Safe House, United in Pink, Susan G. Komen, Locks of Love, Jay's Hope, and others.
At B. Monroe Salon, we are so proud to support Jay's Hope because it's a local organization that helps families right here in our community. Jay's Hope is a Christian organization and they focus on the entire family. At Christmas, Jay's Hope gives gifts to the whole family, which is so special because they understand that the whole family is deeply affected by childhood cancer. They always think of things that others don't – like providing gas cards and financial support for hotel stays. Whatever the family needs, Jay's Hope comes up with a solution.
The B. Monroe Career
B. Monroe Salon offers a unique approach to stylists struggling with the old way of thinking in the industry and want a proven plan for success. Everyone at B. Monroe is passionate about training and coaching stylists and giving them the courage and inspiration to reach their goals.
Our salon offers stylists a proven career path with defined levels and specified criteria for them to follow as they grow and advance in their careers. We are so excited to offer our team of stylists room to grow in our beautiful locations in Macon and Warner Robins.
We invite you to contact us today if you are interested in becoming a part of the B. Monroe Salon team.
B. Monroe Salon began in October of 2008 as Signature Salon, founded by Nichole Mitchell Brewer. Nichole opened Signature Salon with the dream of:
Giving Macon a comprehensive and unique salon experience
Creating a salon that gave back to the community
Offering hope for stylists who wanted to achieve a successful career on a proven career path
Despite being only 24 years old, Nichole had a knack for cultivating strong relationships with her clients and a natural talent for cosmetology. Signature Salon opened with five stylists at its original location on Forsyth Road where they provided superior services for six years.
Cosmetology has been an interest ever since I was young. I had a wonderful mentor at a local salon who told me that I could not only have a career doing something fun, but that I could be a positive influence. After enrolling in cosmetology school, I worked at a salon and fell in love, interacting with people and making them look and feel their very best.
By the summer of 2014, Signature Salon had grown enough to construct a new, more permanent home on Bass Road in North Macon. Throughout the years, they have added numerous cosmetic services, such as hair and lash extensions, as they continue to expand and meet the needs of their growing clientele.
In 2018, the salon's 10th year, Signature rebranded to become B. Monroe Salon. The name change mirrored the evolution and growth of the salon. When Nichole and her team started in 2008, they had no idea of the success or growth the company would experience in just 10 short years. The first decade was very much a period of learning and self-discovery. With a unique, established identity, the B. Monroe team is ready to dive hair first into the next decade.
B. Monroe Salon continued to grow and expanded to  Kathleen, Georgia which opened in April 2019. This location offers full hair services with an incredible, growing team.
We're dedicated to empowering our team and to the longevity of our careers. Our mission is to redefine the hair industry with a completely new mindset of being career-minded versus just being a hairstylist. The B. Monroe culture is fun, supportive, and knowledgeable which creates a positive work environment that allows our stylists to truly thrive.
B. Monroe is obsessed with their guests and wants to pamper their community head to toe.